Psychopathy
April 3, 2012
leave me once more....

so I'll feel it again,
i desire the pain.

I'm thinking about things,
things i don't want to think about.

there's a ******* gun,
it's held to my head,

a knife in my hand,
and there's a guy.

he tells me to do it,
or I'll die.

i take it and slide across,
feel the burn of my skin opening.

its opening to the new world,
the real one.

not my dreams,
to my nightmares.

to reality,
this is reality.

i close my eyes so hard,
to discover my I'magination.

there is no guy,
there is no gun.

i look at my wrist,
pouring out blood.

i take my final breath,
and fall to the ground.

dream,
dream.

i wake in a hospital bed,
my wrist is in stitches.

why'd they wake me up,
i didn't want to wake up.

my vision is blurry,
i see people though.

my mom,
my dad.

my brothers,
and nephews.

my sister in law,
and a couple friends.

they all hold a knife,
smiling in the weirdest way.

one,
two.

three...
and they drop to the ground.

run out the door,
and up to the roof.

i look down,
it's really high up here.

without thinking,
i throw myself off.

this tI'me,
i wake up again.

I'm in a wheelchair,
paralyzed.

the shadows follow me,
still won't leave me alone.

but i can't move,
i can't move.

help me,
i want to die.

help me,
i only want to live.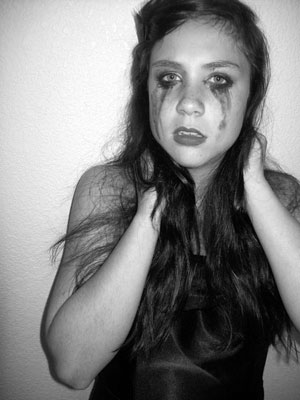 © Tiana D., Monument, CO