Glare
April 3, 2012
A little alone,
A little unsure,
A problem I found,
That came with no cure.

So little time,
It's just not enough,
Came back to the dark,
Full of dull scary stuff.

A dragon to slay,
Collect blood when I kill,
Drink from its poison,
From the bottle I'll fill.

Take myself away,
Some place I don't know,
Somewhere I can't feel,
So my pain will not show.

I'm taking a path,
Where I can't really see,
I'm following death,
Leading to the end of me.

She despises me,
I can see her glare,
She imitates my moves,
And I can't help but stare.

Keep moving along,
There's no time to waste,
I come across a timeline,
Of the problems I've faced.

So tell me "God",
What do I do now,
My harming will stop,
I officially vow.

Again I see this girl,
Her glare has become stronger,
She sucks the life out of me,
I don't think I can last any longer.

I come to a pond,
Where I see my mistake,
Putting myself in danger,
Putting my life in stake.

This life that I have carried,
Is incredibly worthless,
A waste of space and time,
And absolutely meaningless.

But what do I do,
If I keep losing myself,
Life's what you make it,
I can only blame myself.

Paths lead by the reaper,
Not a game not a lie,
So decide to stay,
Or decide to die.

As death stares me in the face,
A final glare of hatred shows,
The girl in his eyes,
Is the only one who knows.

Her glare is so strong,
She knows what I've done,
That's why she hates me,
But refuses to run.

Haunting me as I resume,
And continue all of it,
Gives me until I stop,
But will I break this habit?

A mirror never lies,
Her hate for me is pure,
And until she loves me,
Is when I'll find my cure.

Staring me down,
Brings me to my knees,
Imitation makes me realize,
I'm the girl I see.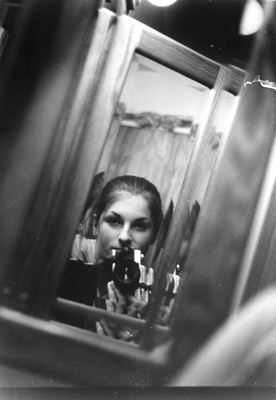 © Lindsey D.,Marblehead, MA