The Universe Within Us
April 7, 2012
Your eyes seem to borrow the stars,
Capturing the twinkle of galaxies.
Pristine crystals paralleling extraordinary astronomical brilliance of planets and cosmos alike;
That of the blue marble we dwell on;
An optic configuration subsuming Saturn's analogous circuits
And Jupiter's compelling cyclonic spot.
I envisage the nebulae that are your thoughts
And the constellations that connect your contemplations
Firing like comets in your celestial mind.
Your smile encompasses the sun
A fierce magnificence, bold and ardent,
Blazing with the same fervent passion that burns in me.
Between us and within us exists remnants of star dust
Nothing but intergalactic debris of this illustrious solar realm.
Sparks ignite between us,
Magnetic pulsars and quasars within me emit showers of luminosity.
Galaxies stir unalterably in our hearts.
The universe is in our palms.
When I'm with you, dawn and dusk amalgamate
I can kiss the sun goodnight and the stars good morning
And caper across the moon at daybreak.
You and I transcend time through an interstellar compatibility
And merely exist.
Our souls are light-years away
Among the cosmos,
And the sky is no longer the limit.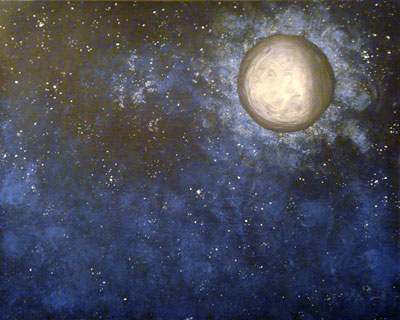 © Allison H., Vancouver, WA