It's All Fun and Games until the Atheist Walks In
April 9, 2012
Religions are like keys
Only necessary when you're
Venturing out into the unknown
Or when you're leaving something
Behind, and you want it to be safe
If only for your peace of mind
And you can make a thousand
Copies, so others can have also have
Access, and when you lose them you
Turn things inside out, you look
Between the cushions, you search
Behind the couch, you turn yourself
Inside out, and you won't be
Happy until you find them. And once they're
Found you feel safe again, like maybe you're not
Crazy, and you think that you'll be happy
Until someone breaks the lock, until they
Prove it faulty, and your discomfort
Mounts, and you cannot sleep without
Thinking, 'well what if the locks fail?'
And what if someone breaks in to
Tarnish everything you know? Your
Tranquility destroyed, your safety
Compromised? Well, then you
Change the locks, and find them
Superior to the first, and you claim that you were
Blind not to have noticed your first
Flaws, and you make more copies of your keys
To give out to people again. But blessed is the man
Who keeps a copy under the mat, a copy hanging on a
Nail, and a copy in his pocket, at all times
He can never lose his key, and he will not give out
Copies unless they are asked for. And he won't
Believe that his lock is faulty, because you
Cannot prove that it is.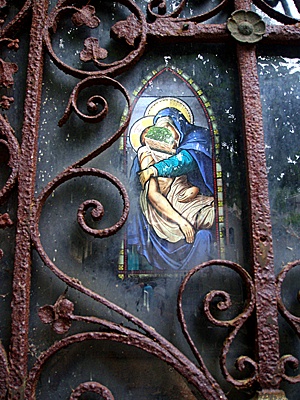 © Rebecca Y., Los Angeles, CA