Temptatious Games
April 16, 2012
it's early morning.
the coffee is brewing, and the birds are chirping.
a rush of creativity is flowing through my veins.
the desire to write has taken over,
but what am i trying to say?

somewhere in my brain
the signals have gone all wrong,
and the things i'm trying to say
just can't fight their way.

the messages aren't being sent.
interference?
possibly.
there has to be something stopping me
from transforming these thoughts into words.

but what?
is it my conscience?
or perhaps it's her.
her face, branded into my brain.
i swear there's no escape
to a safer place
where i can clear my head.

because not a single thing i desire to do
can be done without her on my mind.
what happened?
who have i become?
i know i'm not in love,
but i still know that this is not me.

the temptation is thrilling,
the rejection is motivating,
and, baby, i'm not giving up this race.
because i've chased hard and fast,
i've faded to the blackness,
and i've lurked closely behind.
but i will not stop until i win the prize
because, really, i'm just not that into you,
but i want you to be into me.

it's not about love.
this is all a game,
and the reason i play
is to win first place.
so, darling, you better run fast,
because the temptation to be with me
is coming back,
and as of right now… you're coming in last.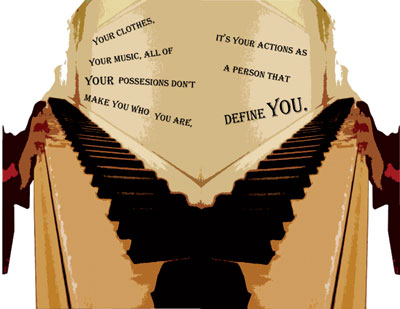 © Brad F., Stewartville, MN