Trapped and Frightened
May 7, 2012
Trapped,
Lost with no light,
Bound by chains of fright,
I wander helpless,
Trying to capture some hope in this endless night.
Wandering alone,
No one by my side,
No one to as a guide,
I shiver as the ice fills my veins,
Like a river lost from sight,
It flows fast through my body,
Leaving a freezing hell inside me.
Not seeing my surroundings,
Not caring my strength,
I dance with the demons,
Lost to the night,
The ones that only I can see.
The wind whips around me,
Beating my with its unearthly strength.
I let it take me,
And as it wraps around me,
Blocking out the air,
It pulls me under,
Drowning me,
Hiding me from sight,
Filling me with fright.
I scream,
But you don't hear,
Filled with fear,
I wish for you to come,
But oh no my dear.
How can you fight something,
That you can't see?
Oh it is impossible,
I should know.
Screaming,
Fighting,
Crying,
I feel the wind killing me,
Sucking my soul into its fury.
I feel my passion slowly being drug from my motionless body,
Too tired to sob,
Too far gone to fight,
I let myself go.
The fury takes me,
Dragging me further away,
I'm so far gone,
No hope of coming back.
Let me be free of this pain,
Let me be free of this world.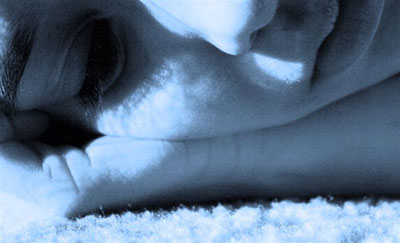 © Paula B., Katy, TX