The Passage
May 9, 2012
I hum along with the song
'Cause it's all that I can do.
Take a deep breath,
Hold my head high,
Wishing I could die.
Inside my skies are grey,
Clouds blotting out
Sun and moon and stars,
Day no longer different from night.
Rain would be a blessing,
A cleansing miracle,
To wash away the shame
The pain.
But all is dry
And I cannot cry.
If nothing else, I have my pride.

Outside I see the sun,
Skies are clear and crisp and blue.
The people laugh, smile, play,
As if it were just another day.
They're laughing at me—
A knife in the heart.
And they smile and beckon,
"Come out in the sun!"
And I turn away
Back into the gloom,
While outside they stay,
The world all in bloom.
They continue to smile,
They're still laughing,
Low chuckles are darts
Directed at me.
And they smile and say
"Come out in the sun!"
But I close my ears
And dive into the dark.

A dungeon with walls
Of mist and fog
Bars the light,
Smothers the fight.
And I sit in the dungeon
All by myself
With a heart in my chest
That won't beat its best—
Like a window shattered—
Cool glass that may
Not ever be warm—
Sharp and jagged—
Flesh torn.
And I hum with the dirge
That bore my poor soul
Down to the depths
Of the grim Underworld.
No Orpheus here
To change the tune:
Only the strings
Of my own heart.
No Hercules here
To drag me back up:
Only the strength
Left in my mind.
But if I turn 'round,
What there will I see?
Some shaded Eurydice,
A fresh scar?
Or only a star?
"Come out in the sun!"
They call out to me,
But I give Charon my gold
And step into the ferry.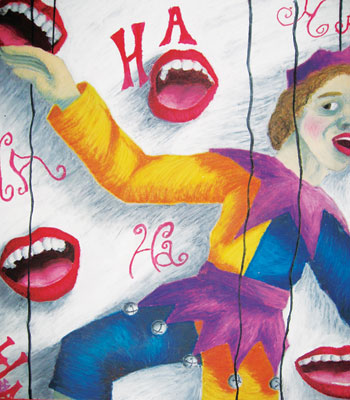 © Carollynn G., Hawthorne, NY