Ode to Latin Class
May 10, 2012
O ancient and constant and never failing,
Through your translations I am flailing.
Martial, Caesar, Cicero, and Plautus,
For our efforts no one applauds us.
Agreements and conjugations and declinations,
—On grammar I'd like to make a declaration.
But Latin, tedious though it is,
Really is good for biz.
It permeates our television,
It seems everyone is on a mission
To bombard our lives with Latin terms.
(Now my mind is not infirm.)
P.M., A.M., p.s., i.e.,
e.g., m.o., B.C., A.D.,
To name a few,
And still more, too!
By taking Latin, I've learned a bit.
With grammar and words my mind's been hit.
But it's not all work, there's time for play.
All's quiet, minds are on the task,
Then the sheath and hilarity ensues.
Though the work we may rue,
In the good times we love to bask:
For the giggles, I think I'll stay.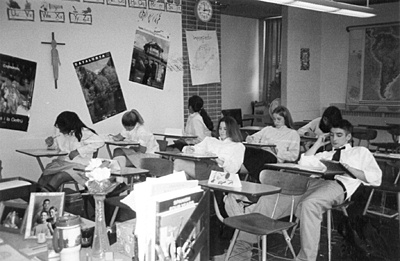 © Fox V., Whitesboro, NY