You are Tasty and Good with Ketchup
May 9, 2012
Cold. A dark, venomous blue.
Sharp, dangerous; a metallic hue.
With crystal scales that shine in the light,
No fish or snake could match this beast's might.
Whip-like tail slashes through the air,
Showing its location without a care.
For, this mammoth has no reason to be scared.
No man would approach it if triple-dog-dared. 
Using Membrane-filled wings of iron ore,
A dragon can rise up into the air and soar.
Jewels and gold 
encased in grey mold.
Knights' corroding armor and polished swords, 
Bones and crests from the castle's Lords,
Cows and sheep and horses from many raids,
The love notes from stable boys to the milk maids.
The noble Ladies' silken ballroom gowns,
The King and Queen's majestic crowns,
A sorceress's bubbling magic potion
(it's rumored to give you breath underneath  the ocean),
A wizard's star-covered pointy hat
(hidden inside are the bones of a bat),
There are more gems here than music notes in a band,
Or deep in a story book, in Midas' cursed hand.
Priceless stones that are painstakingly collected,
The serpent's lair is dutifully protected.
Teeth and claws inflict a nasty gash, 
Phosphoric lungs add an incurable rash.
Another set of armor like a robot,
Sickly white metal, pliable and hot.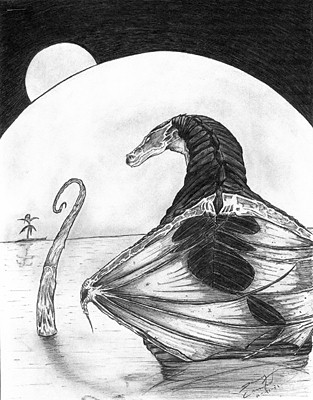 © Danny Charles C., Foxworth, MS