You Made Me Feel
May 3, 2012
What am I to do when I see you?
Every time your eyes meet mine, I think of the way you made me feel. It was right, it was warm, it was happy.

Wanted.

You made me feel

Wanted.

Like someone actually cared about me for the first time in my life, for me. I found someone who could call me beautiful without caring how I was dressed or if I had makeup on.

Beautiful.

You made me feel

Beautiful.

I've never had enough confidence, and my self esteem was low. But you showed up and told me everyday how beautiful you thought I was. You didn't give me a big head. You gave me hope.

Happy.

You made me feel

Happy.

For once, someone liked me for who I was. Someone shared my interests, and didn't tell me that I was stupid for liking those things. Someone cared that my life is much less than perfect, and saw through the stupid smile on my face. Someone always asked how I was, and what they could do to help.

Perfect.

You made me feel

Perfect.

I didn't feel like I had to change for you. I could be completely myself you would still love me.

And now

I don't feel anything.

You left, and nothing could have hurt more. The one person that made me feel wanted, beautiful, happy, and perfect is gone. But I block out the pain, because I don't want to feel it.

I don't feel

Pain.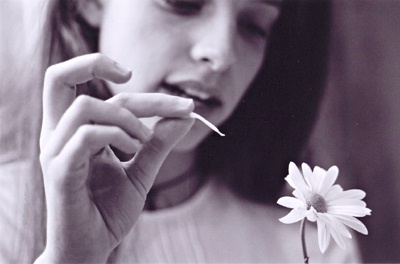 © Emily B., Houston, TX