Rainbow
May 24, 2012
You're happy and you're sad,
You're warm and you're cold,
You're there and you're illusion.
Do leprechauns really wait
On the other side
Of your arching tresses?
Will I find your pot of gold,
Or is it only mold?
Your glowing gems
Brighten cloudy skies,
Bring smiles to faces
Of rain-weary children.
But are you really
A bridge to paradise,
If paradise is gold,
As children believe,
Or are you only
A trick of the light?

I trusted your bridge,
But you wouldn't hold my weight.
I believed in you
And you made me crash.
Your bright hues
Drew me in,
But your beauty
Was only a façade
Concealing your weaknesses:
You weren't strong enough
To hold me up.

So I lay on the ground
So close to my gold
Which was only bronze.
My eyes were obscured
By a child-like love,
But you were weak
And you made me crash.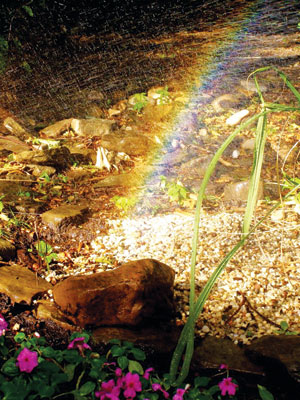 © Kristine B., Setauket, NY