Wish List
May 20, 2012
What sort of wishes?
A world where no one misses
The loved ones they've lost
In some far-off holocaust;
Where tears do not fall
In long, empty halls,
And friends are always there
To tell you that they care.
And if things do go wrong
They won't stay for long,
But fly swiftly away
Before the next day
To be replaced by some good
As all bad things should
But seldom are
'Ere returning from afar.
I don't want to be
In this world of ours:
For everything there's a fee
That we must pay in hours.
And when my time is finally up
I want someone to hold my hand,
To save my last tears in a cup
And pour them into the sand
To trickle back towards the sea,
From whence we all began,
There to remain for eternity
Amongst mermaids and seaweed strands.
Too often we die alone
In the dark and in the cold
With only Death's old tone
To make our fears unfold.
I want to live my life with honor,
Like the cowboys and soldiers of old,
And when I am a goner,
To meet Death proud and bold.
I want to make something of myself,
I want my name to be known.
I do not want power or wealth,
Just a page I can call my own;
My name carved in stone.
And a thousand years from now
When all I know is dust and dead
I want people still to ask me "How?"
I want my words to be read.
It is just a name, I know,
And who I am, it can never show,
But it's better than to be forgotten
Like an apple core thrown away, rotten.
How many of you will still be known
When the last dusty bits of your bones
Away on the winds have been blown?
How many of you will be more
Than only a name on a tombstone?
When Eternity is knocking at the door
How many of you will say,
"I am now as I was before,
Remembered still as I was today"?
I want to be remembered
And not simply dismembered
By the scythe of Time,
Rhyme by rhyme.
I want world peace,
And more police;
An end to hunger
And life that lasts longer;
No more war;
Happiness to the core;
These things for sure
And still I want more.
If knowledge is power
Then why do the hours
Still tick swiftly by
Like birds on the fly?
I want to know when I'll die
So I can count the moments
And when He comes I'll know Him
And I'll take Him by the hand,
And proudly I will stand.
I don't want to be afraid
When He comes to lead me down.
I want my dues to be paid,
I don't want the Ferryman to frown.
Nor do I want a crown,
As many people do,
But to travel the world around
To see what's old and what's new.
We mow our lawns
And sweep our halls,
And when our days are gone,
What's left but a fingerprint on the wall?
I want to see them all:
Every mark, every print,
Every tiny little dent
That's left in this world
By those who were hurled
Into the abyss of Time,
To hear their last echoing chime
Resounding through the ages
And writing all the pages
Of what they could have done
But never did
Before they were flung
And came to their end.
I want to see them again
In all of their glory
And hear them retelling
Their long, bitter story,
The ages unfurling
Like a flag in the wind
Of a great pirate ship
And a crack and the mast splits
And they know they've been hit.
It's an adventure I want,
Like I find in my books
Or some gory ghost that haunts,
Or Medusa killing with her looks.
But I don't want to live
In this corporeal realm,
With my soul draining away
Like water in a sieve.
I would dance with the Fey
Or stand at the helm
Of the Flying Dutchman herself,
Or run away with an elf!
Here, there's too much pain
For too little gain;
And no amount of rain
Can wash away the shame
Of deeds done to one another
For the sake of God, power, and hunger.
So what is it that I desire?
Some little spark of fire
To keep my warm soul
From going dark and cold.
And when the tune of Time
Is done playing on lyre's strings,
And Death's spoken the last rhyme,
I want everything.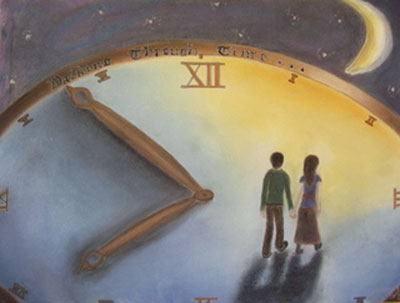 © Carollynn G., Hawthorne, NY