Handfasting
May 29, 2012
I will be married soon.
I will be wearing white,
And laugh at you,
So beautiful in your tux.
Handfasted in summer—
Midsummer, maybe,
Because Midsummer night
Is for dreaming.

Perhaps it will be July,
Or August, and our families
Will complain about the heat.
But we will smile together,
Secret,
Because summer is a warm time,
A sweet time,
Perfect for love.

If we must wait, it will be winter
But no less perfect for that.
Even if there is no snow,
No white wedding at Yule,
I will still wear white,
And I will still laugh at you,
So beautiful in your tux.
Winter would be perfect, too.

Autumn, as well, would suit us,
And we would still be wed,
Even in the rain.
Imagine it, the trees and grasses bending,
You, beautiful in your tux, and me in white,
Laughing as the rain soaks us,
Because our love is laughter,
Regardless of the season.

A springtime handfasting would be lovely,
Even if I don't want to wait that long
(Though, for you, I'd wait forever).
Our families would throw flowers,
Blessing us,
As the red cord bound our hands,
Tying us together,
Before the Beltane fires.

There is no season to be had
When I would not want to make you mine,
To stand in front of all and say,
"This is my wife. Isn't she beautiful?
Don't you want to love her
Just as much as I do?"
Spring or summer, autumn or winter,
We will be handfasted soon,
And then we will have forever.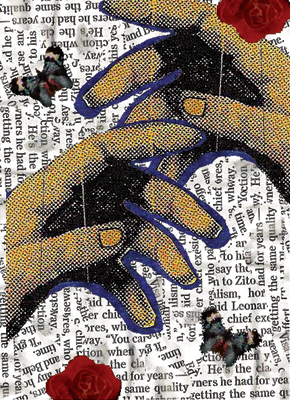 © Christine S., Arlington, VA