Lurking Nightmare
June 8, 2012
I close my eyes in effort to pass the world by,
And put it aside,
Bleak,
... Is what I see.
Letting down guard,
Boundaries begin to flee,
And my mind to seek,
Leaving my body to leak,
Perspiration,
Aspiration,
Imagination.
Asleep.
Free of the worlds reap,
Its time to shed from my weep,
And take a peep,
Of my hearts true seek.
Making new of antique,
Visiting the Greek,
Trying on a new beak,
Making heroes of freaks,
And gladiators of pipsqueaks.
Perfumes of global reek,
Starting a new technique,
Weak is the new physique,
I am unique.
I am a king in a castle,
I an laughter in a chuckle,
I am a bullet in a rifle,
I am hope in wishful.,
I am truth in toil,
Tonight,
I am simply a noble in a fable.
My armour shines like a new round marble,
Enemies become a memory as the tremble at my name.
They go insane.
They stumble,
They fumble,
They are not a match when it comes to rumble,
Or wrestle for that natter.
Instead,
They lay back and get fatter,
Enjoying the games of the mad hatter,
On earth they've made my dreams tatter,
But not this dream,
Ill break through seams and make theirs splatter,
Clatter,
Shatter,
And serve it on a silver platter.
I'll make even the horses chatter,
As they run free from stables and scatter.
Thus continuing my fable,
Through the greens I'll ride,
On my horse,
Breaking stride,
Wars will confide,
Hope will provide,
And problems will come untied.
As you see,
A good dream is implied.
I have a fair maiden by my side,
Never has she lied,
Nor tried,
Our love expands over hills,
Her love fills,
All the dark,
I've tried to hide under a Vail,
Now uncovered,
A new bride.
Roses and dandelions stretch the valley wide,
Off to the side is fear lurking in what I used to hide,
But i let it slide,
For the animals sing with great pride,
Their feet glide as they dance.
like its their last chance,
Last chance to be free inside.

It is.

It is their last chance to dance,
As darkness conveys in tide,
This is the devils vile reply,
Causing wars to collide,
Nations to divide,
All hope has died.
Dead is mankind.
Sin takes my new found bride,
Once always faithful beside.
Now shes lied.
I'm watching her be hogtied,
As the dark fills with nitride,
Oxide,
Chloride,
Poisoning her very whim.

Love is starting to reside,
Couples mourn,
I cry,
Freedom is denied.

I plea for it all to end,
But the message wont send.
I plea for it all to mend,
As I smash resend.
this message is suspend.
beast cast our death to extend,
Stripping clothes,
Breaking and shaking,
Ripping and tearing.
Now naked,
Our skin is torn from flesh,
Dried,
Fried,
And sold as hide,
Weak,
Covered in blood,
A new thought is added,
This is no longer a dream,
But a nightmare,
This isn't fair.
Why just they snare,
Glare,
Swear,
And pluck each and every hair?
I'm scared.
I begin to clinch my fist,
Squeeze my eyes shut,
Flare my nostrils,
Open my mouth wide,
And scream,
Yell,
Anything to cause hell
----------
Covered in sweat I awake,
I was beginning to fear for my own sake.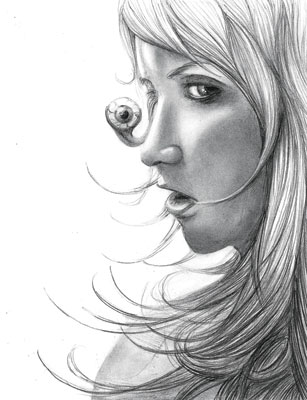 © Jessica P., Bethel Park, PA