Gone but not Forgotten
July 21, 2012
I can't breath
When I first get the news.
Horror-struck and confused,
I search for that picture.
The last time I saw you
Wasn't even in person.

A worn out mass
Collapsed on the cement.
A river of pus oozed out
In every direction.
You fought so hard
And for nothing.

I find another picture
Taken years before.
I remember when I took that picture.
You were old and fat, even then,
But I loved you all the same
Because you were mine.

I can still hear your groans at night
And your weak attempts at escape.
You just wanted to be like you sister,
But you fur was too coarse,
Your legs, too lazy,
Your eyes, too distant.

But I loved you anyway.
Your fur was my blanket,
Your fat my pillow.
Your eyes were two perfect marbles
And your meow could be heard for miles.
No one saw your beauty but me.

Now I miss your fat lump of a body
Protecting me at night,
And the cries you shouted to no one.
Coarse hairs running through my fingers,
And even your toe licking tongue
That never took a break.

But this picture is all I have left.
The pus is gone
And so are you.
I can't even remember the last time
I saw you in person
But worst of all,
I never got to say goodbye.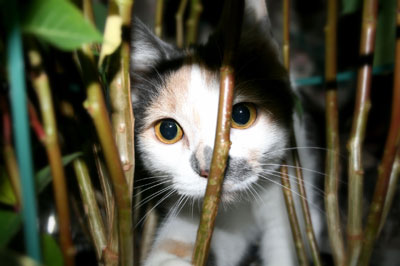 © Leah B., Kokomo, IN