Waiting
August 29, 2012
Have you ever felt pain?

Well, of course I have, what kind of que-

No, no, no, not that kind of pain. Not the kind you feel when you touch a hot stove and have the proof on your hand for days after. Not the kind where you walk around in your room in the dark and you're feet are reacquainted with each and every piece of furniture. Not the kind when you prick your finger on a needle, and find out the color of blood.

Not that kind of pain.

That kind of pain goes away. A week, the burn's all healed up, and it's like it wasn't even there. A few days, once the mortification has worn off, the feeling like your toe will fall off with pass. A couple hours, and you forget the pinprick even happened.

I mean the pain that lasts. The kind that keeps you up at night, a feeling of fire in your chest, your blood, your very bones that refuses to go away and you grin and bear it because hey, it's my fault anyway.

The kind where you can't help but blame yourself, because who else is there? Who else but you could be so cruel as to inflict this never ending torture upon you. There is no one to blame but you. And you know it. So you turn it inwards, burning, knowing there's nothing you can do but pack things on top to make it hurt less. Sometimes you think it's gone, you feel a buzzing, humming feeling, like you could walk on air, like you could fly.

And then you close your eyes and you hear the screams. The screams so loud they're all you can hear and you can't shut them off, you can't shut them up, because they're your own.

Your own.

Yes, you are doing this too. You go live your life, you read, bike, listen to music as loud as it goes - but always, always, you must come back. You must.

And it's right there.

Waiting.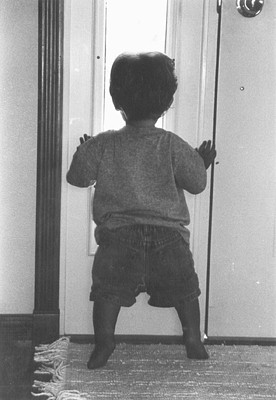 © April D., Whitehall, MT