barbie never sweats
September 17, 2012
with an army of magazines
and beauty queens
how do i compete?
when my trophy case of
unattainable standards
stays
empty
spiders hibernate and weave in my
valley of insecurity

when its a race
pick up the pace
because today's the sale
for a new face

the lines are long...

makeup commercials merge into
songs
and I've memorized the lyrics
and studied the brochures
because only four payments of
shame ninety nine
can buy me a better body

words sting when miss Tennessee
is the new model for recreational
or the norm

LORD PLEASE tell me
how i am supposed to compete
with beautiful woman
who DISGUSTINGLY bind their feet,
but metaphorically
how can i impress when i cant afford that dress
and who is gonna love me
take care of me
accept me
when I jackhammer off the
makeup...
wipe off the touch up
let my mascara run

so liberating
so fun...

yet i fear
that it wont be clear, exactly
what my intentions are

my bridge of doubt runs for miles
with mirrors broken
and my BEDROOM IS STOLEN
with fake faces on faker magazines

i question...
WHY you mock me
WHY MUST you rob me,
of the confidence and beauty,
i was born with, why oh! why
do you make me believe
that real beauty is a,
size negative thirteen
AND WHY DO I STILL TRY
to be that size
try to fit in those jeans
when even though...i know
if that zipper zips
if that button buttons
it means I'm in a coffin
but why do i still crave it...
why do i need it
AND WHO F***ING DARED
MADE ME THINK IT...

models with mile long legs
are prettier
when the camera is clearer.

why do you fear me?
try to conform me
leaving me and she
and ALL of we,

feeling useless
leaving me clueless
as to whether or not my hips are bad
or if i should be
mad
about the natural sag of my skin
wanting to be thin...
but learning to accept,
and forget
about the ads that stiffly scatter on my bed
keep trying to creep into my head
but they wont oh not today
for i stand tall
my lumps and all
for i am proud to stand among
the thinnest crowd WITHOUT
holding my head down.

I'll keep it up

cause if you stand high enough
the words
the images from the magazines
can not reach me and we
if i become a skyscraper
i will be untouchable
unbreakable, no make-up on...
BUT UNSTOPPABLE....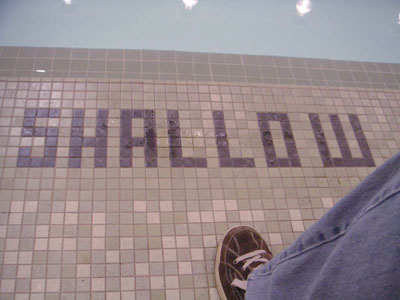 © Garrett M., Port Angeles, WA