Flower
November 1, 2012
Petals soft and lonely,
Glory faded on your wings
Stem twisted green and spiked with thorns
Small and simple, sweetness sings.

When sunlight finds its golden rays
It draws them in to set them free
It catches on your snow-white crown
Freedom, freedom, call to me!

When nighttime shrouds the sleeping world,
You tuck yourself away
To shiver through the hard cold night
And live to see another day.

Slither mist in silver song
Dance away the midnight air
When day returns the world wakes up
Sun melting clean the moon's sharp glare.

When your petals fall like stars
Bright in pearly glow
They crumple on the hard-packed ground
Like footsteps in the snow.

Forgotten, dying beauty,
Staring at the tree-spawned sky
Wet with dew and something more
A tear that glistens eye?

Brittle brown and broken
Your life has reached its bitter end
But with the night and killing snow,
You will make amends.

As you finally fold up for good,
Nothing but a stalk
You look alone, but are you really?
Can't you hear the angel's hark?

Frosty night comes back again,
Though your cycle's finished
Bringing strength and secrets too
Like forgotten wishes

And here it comes to save you
Decorating you with frost
With cold and moon and starlight
The love and dignity you lost.

You stand there dead but living on
Roots curling underground
In endless sleep you sparkle
Silence is a joyful sound.


Cold, so cold, is life without you
Pallid, gray and bare
The outside world is blank and dull
Without a pearly jewel to wear

So listen for my longing cry
That splatters gray with red
Will someone sing like that for me
After I am dead?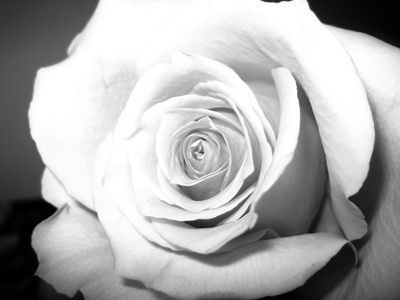 © Kimberly C., Houston, TX