Best 30 Seconds of My Life
MAG
November 5, 2012
he's there.
standing by the refreshment table
making small talk with that jock.
he sees me.
i look to my friend and act
engrossed in our conversation.
i have no idea what it's about.
dares.
that's what she's saying.
the guys are handing them
out like candy.
one guy had to streak
across the street.
this isn't grade school
anymore.
he's staring.
i don't know what
he's thinking.
he's moving.
toward me.
i hold my breath.
i feel his hand
on my shoulder.
i turn.
he presses his hand
on the back of my neck.
i gasp.
his lips touch mine.
for 30 seconds
his lips move
with mine.
like a well rehearsed
choreography.
i'm the ballerina.
this is my show.
then he stops.
he winks.
he walks back to
his friends.
high-five here and there.
i feel like i've been slapped
best 30 seconds of my life
and it was only a
dare.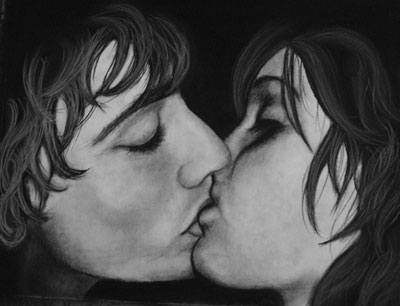 © Anna Y., St. Robert, MO