Written the Week Following a Funeral
MAG
November 16, 2012
It should have been linen,
the tablecloth. The plastic kind just
don't lie flat.
Plus they smell like,
plastic.

I'm the only one who notices, I think.
Everyone else has eased up from the silence
into figure-eights
and circular conversations,
and side pools;
telling stories,
balancing paper plates
of mayonnaise and cold
pasta.

I should stand with somebody.

it's a broad lawn, a bed
occupied by a body of relations,
blanketed by a hundred stories,
and every mouth is laughing a little,
hanging slightly at the jaw.

The casket was white as a tooth.

As the evening goes on, the alcohol
will start to smell
from mouths and bodies
and stumbling hands will collect ties
and hats,
and we'll all stuff into cars and go to
tell louder stories
over peanuts and cashews
or club wraps and cocktails.
Some of us will talk,
some of us will stare.
We will loosen collars
and laugh widely,
and some will go home to sleep,
or watch TV, or make love,
and wake up to coffee and alarm clocks,
and some of us will sleep in.

But for now,
we are constructed;
a little posture, a little normality
encasing the dead conversation,
pressing on my ears,
smelling of plastic.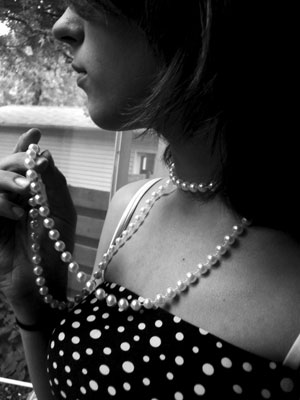 © Elaina V., Canton, OH