Our Sea
December 1, 2012
Wrap your arms
around mine.
From behind, though,
not a sissy hug.
Act like you like
who I am, who I
was, who I am
going to be. But don't
love me; love is for
silly teenage dreamers
who can't seem
to catch a break,
so they find it in
plastic eyes and
tin foil hearts.
It's cold. The wind
runs it's icy fingers
through my pores,
over my collarbone,
and I smile as
the goosebumps rise
like mountains on my
forearms, or like
lighthouses that
protrude from a green,
grassy cliff, looking so
perfect from your
pedestal. But from
mine, I see a gray,
rocky shore with
distraught waves
vehemently eroding
the boulders and
quicksand beneath.
So kiss me, and like
me, don't love me.
Suction yourself to
me with your
rosy lips, sizzling
against mine like
bacon in the
morning with a
side of coffee, no
cream. Envelope
me, ponder over
the azure, silky
coffin that mediates
outside of our
window. Roam
the wasteland that
is my chest, where
silently a real heart
pulsates for you;
never a construction
paper organ that
only moves when
someone saws
scissors through
it's fragile body.
Watch with me,
stand in the distance
with your arms
outstretched for
me, yearning.
I need you too,
more than you
know, in such
short spans of
infinite time and
space, I say,
you are spectacular.
Like spiraling
stripes on a
shore, you're
infinite, joined
in likeness and
heart, but never
ever love.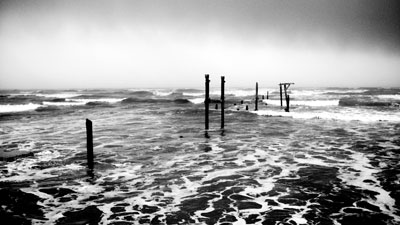 © Harrison L., Ruston, LA