when back way
MAG
November 29, 2012
when back way
1 (one) was
li/ttle
*l*i used to pretend that the
nice kids on the bright green playground
liked to play with me
'cause i was always the scary dinosaur, rawr!
or that on the tickly grassy fields
i really could kick that hopelessly
checkered ball
and everyone would cheer when i scored a goal, hurray!
but s-hush, i'll let you in on a li/ttle secret, i
conf(ess)
no one else wanted to be the t-rex
and
i sucked at soccer
…
but you kn(ho)w what
~p~s. it's okay
i'll settle for watching the sunset
as i sit on the lumpy roots of the butt tree
and i'll leap onto the squeaky swings
tape post-it wings to the wind
and keep kicking my legs out
until
i finally touch that
branch
that just is
a little bit
too high.
e.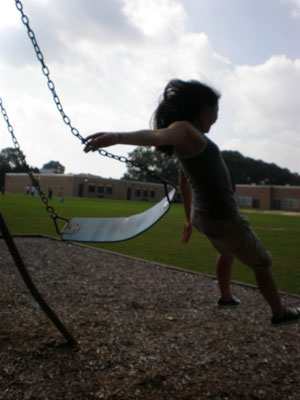 © Michelle L., Syosset, NY