Innocent
December 8, 2012
You see we all knew he was innocent,
That man who walked toward the noose,
But somehow that didn't matter,
Not as long as we had our hanging.

He stood before the judge and said,
"I'm innocent I swear!"
But we proclaimed him black as hell
And made justice mockery that day.

He pleaded,
"I've got a poor wife at home,
Who'll take care of her now?
I've got two small kids,
Who'll feed them no?"
Mercy he begged, mercy,

His answer was base laughter,
And mud thrown in his face,
"He'll go to hell today!"
That man we all knew was innocent,
We sent him to the grave.

A black hood over his face,
"Dear God shave my soul!"
The noose around his neck,
His wife at the feet of the hangman wept.

We saw him swing, we put him there,
That man we knew as innocent,
God forgive us of our sins,
May we all repent some day.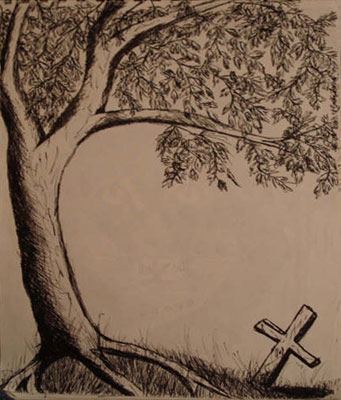 © Courtney K., Bethel Park, PA