I Am Poverty
December 22, 2012
Lo! The villain stands by the door
Crouched, starved and waiting
His eyes burn bright,
His skin taught over bones,
He flexes his claws
He gnashes he teeth.

Backed up against the wall
I stand sword ready in hand,
My mouth moves in silent prayer
My legs tremble against my will,
If he comes nearer
I've sworn to kill him.

On four limbs like a cat
He comes forward
Eyes darting, mouth drooling,
His breath is like a sewer
His clothes hang in shreds,
Man he may once have been
But he looks not like one now.

With a leap he is on the tale
I stand posed ready to strike
"Who are you?" I ask the ghoul,
He howls and says, "I am Poverty!"
"What do you mean?"
He replies, "I am he who waits outside your door,
I beg and receive nothing; I am he who gets no work.
I cannot feed my family, so I rightly say I am the face of poverty."

My sword lowers,
"You would come and take what is not your?"
"I do not take what should not be mine."
The creature replied,
"What makes us poor? What makes us rich?"

The ghoul shook his head
"Only fate ordained your place,
And thrust mine upon me.
I could have had riches
They are rightly mine!
So I do not steal from you tonight."

With that the brute leapt at my throat
And I with skilled hand
Smote him through the heart,
He lay quaking and quivering
His life blood draining,
With haunted eyes he pointed out the window.
I turned to look
The sun was setting
The creature gurgled and lay dead,
Sheathing my sword I poured wine,
Sat down at my table
And enjoyed my dinners meal.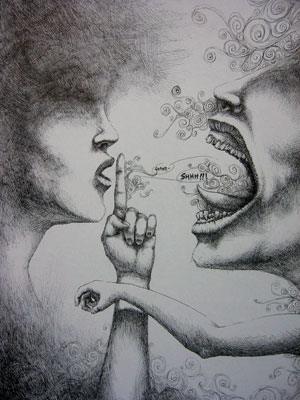 © Andrew M., Apple Valley, MN