January
December 28, 2012
Winter trees are the gray old ghosts
Of gaunt wrinkled women and sunken, hunched men
Reaching their bone arms to the sky for retribution,
Splaying their arthritic fingers to catch denied eternity
That falls through their hands to stripe the soil
In the shape of sketched shadows of time.

Their fallen hair is clumped into red autumn leaves
Returning to the earth by now, anticipating snow –
That first hand of dirt to land on the coffin.
Life must hide or fight if it wants to survive
But the days are cold and the tombstones,
Embroidered with frost, are as lovely as life.

The survivors sleep to make time go faster
And dream nightmares of approaching parking lots
And visions of the summer sun at full volume,
Disturbed perhaps, for a moment, by the first false alarm
Of spring, that brief bit of beauty
And warmth, slipping away through outstretched hands.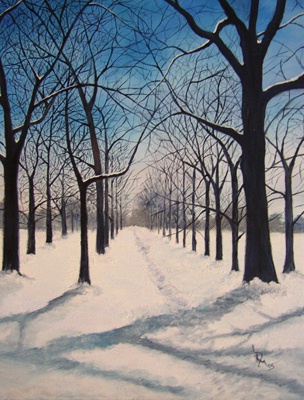 © Lauren M., Scotch Plains, NJ