Astronaut Love Song
December 28, 2012
Meet me on Alpha Centauri
Or someplace cold and empty
now that I'm used to isolation
there's just one soul I wish to see.

Being back the crowds are claustrophobic
A million times more than capsule plastic
I find my eyes craving the night sky
Dreaming of flying through the void of black.

So let's look down at the blue star
And the glowing land where they are
From the cosmos we once observed
Holding hands and thinking of places far.

We'll climb on rocks and pretend we're kids
Playing rocket-ship, sweet and innocent
Brains unscarred by a year of deep space
And the misery a world can give.

Should that blue light go out, we'll survive
For long enough to articulate good-byes –
The oxygen in our tanks should last a while
And there's no one else I'll let see me cry.

And the only thing about Earth I'll miss
Is the long, cold nights and simple bliss
Of hiding from the living eyes
And telling stories of unknown risk.

Convince me to believe in souls
And tell me there's some place left to go
Though there's spacesuit glass between our faces
At least it's better than being alone.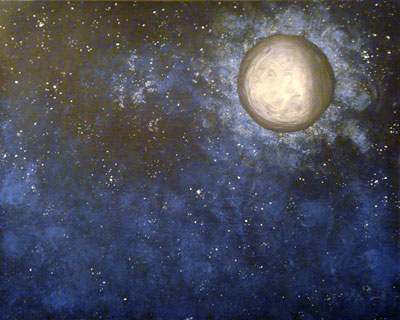 © Allison H., Vancouver, WA