Bats, inspired by a true hero.
January 4, 2013
What do i fear most?
Somewhere deep below?
Somewhere you dare to go?
no.
Deeper.
Where light has no chance.
Where shadows absorb their prey.
and keep it prisoner.
Where darkness feeds on the ego of man.
And a whisper of words you can't understand.
Grabs a cold hold of your lungs
and fear rises into your throat.
And your feet leave the ground,
when you hear a voice.
Is he a savior or merely an avenger?
In his voice you hear fear. Of what?
He is the master here. What could he fear?
Listen.
A flutter of words. A squeak of a heartbeat rusted over.
You look around in vain.
The darkness is your only advocate.
When your feet touch ground.
And suddenly the sound-
A crescendo of beating
is it your own pulse? blood in your ears?
Now it's a deafening roar.
What do you fear most?
It's about to change.
It's time my enemies share my dread.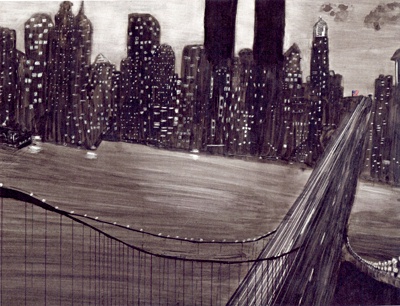 © Breanna Lea B., Richmond, VA