My Shadow
January 11, 2013
We walk together, a pair of weary travelers.
The falling snow swallows our footsteps.
A single
shadow trails behind.

We do not slow, though each gust is an icy slap to frost bitten cheeks.
We do not stop, not for a warm mug of ale, nor a steaming bowl of soup.
The shadow praises us for our strength.

As the wind beats faster I feel my companion falter.
Blinded by the pounding snowflakes, she runs.
A single shadow trails behind.

Can't you see he's killing us?
He doesn't want to help, he wants to destroy us!
We've turned down every offer, for what?
To continue walking down a g****** path,
to continue walking and end up dead.
He doesn't own me.
I can do whatever the hell I want.

As she lays a hand on the doorknob I feel myself shiver.
What is it, laced with arsenic?
She sneers.
No,
something worse.

The shadow and I watch her fill her plate.
Bread with rosemary.
Chocolate chip cookies, fresh from the oven.
Pizza.
Warm pretzels.
All of it laced with her personal brand of poison.
I cringe.

You can starve out there, she laughs, but I won't.
I watch her complexion grow sallow.
I watch the weight melt off
her bones.
I see her arms growing brittle.
I beg her to stop, to walk just a bit farther with me.
But she's too hungry.

With each bite she takes, I shudder.
And when the light leaves her eyes, I am not surprised.
Not a bit.
Those who don't follow the rules, end up
dead.
It's not a matter of how,
but when.
I turn my back on the crumbling house of horrors.
Resistance is not the way to win this fight.

I cross the valleys of swaying wheat, rye, barley and oats without fear.
I keep up the search.
The shadow praises me for my bravery.
The snow disappears all around me.

My shadow does not define me
but those who don't follow the rules,
end up
dead.
It's not a matter of how, but
when.
And for that, I will keep walking.
I
won't
give
in.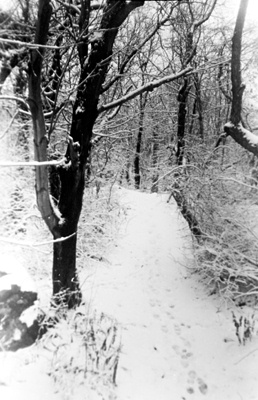 © Kelley C., Marblehead, MA