Assimilation
January 21, 2013
One needs to separate in order to end this separation.
When that one is aloof from the ones he loves,
And surrounded by others he is tired of,
Others, who don't understand,
Some who don't care to understand,
He breaks down.
In tears he gasps and drowns.
He wants to go back,
Go back… "home".
It's weird how others say "home".
Almost like he doesn't belong there.
And when he thinks about it hard,
"Home", speaks of truth.
He doesn't belong.
Why did he drift from "home"?
If it is where he should be,
Where the comfort is everlasting,
Where there's soft terry cloth to be cuddled,
Why would he not be there?
Hitting playback in his mind,
The reason he digs for and tries to find.
He knows why, but when others ask,
It's too complicated, an ineffable task.
It begins with separation,
A better synonym to explain is segregation.
This foreign place he traveled to,
Was full of one race and everyone knew.
That he had no similar color,
No background like theirs,
He had a dad he knew,
A house with warm water, clean clothes on his back,
Food to fill his belly too.
So he glided from class to class,
Without a remark or wave returned.
They would look at dirty tiles, fidget with their packs,
For him they never yearned.
Some would point, lean away, and whisper.
But his mission kept him strong and covered the blisters.
For he desired a change, a revision of their thought,
Congregation, aggregation, assimilation is what he sought.
If only the world had not grown the way it did,
Making people think to own others and even bid.
This left many, like ones in this school,
Believe we're different and he's the fool,
That he's the fool for attempting to assimilate.
That he's the fool for trying to demonstrate.
That he's the fool for trying to coordinate,
A curtain to their separation,
An absolute end to this segregation.
He was the white fool, in a black school,
Following all but one rule,
That this nation needs to know,
We are all human and therefore equal from head-to-toe.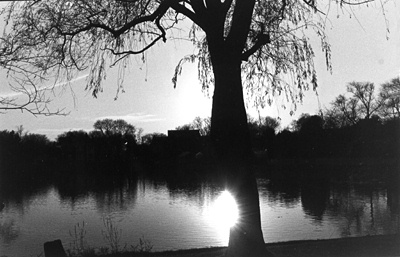 © Chuck K., Marblehead, MA