Nightkeeper
February 3, 2013
I left at dusk to make my nightly rounds.
First, I cupped the sun in my hands,
Suffocating its boasting radiance to a humble glow.
I painted over the waning gold marble:
Soft dabs along the russet and crimson horizon;
A waxy harvest shrouded by clouds of cotton amaranth
Nested softly in a cornucopian sky;
Followed by caressing brushstrokes of cerulean.
With the disappearing of the glowing peach
I bathed the entire sky in a liquid charcoal;
Shiny, like blood, and elegantly chatoyant.
I wandered a nearby meadow.
I signaled the entrances of insects and critters in a twilight nocturne.
Clicks and chirps resounded in harmony
With cicada's percussive strokes,
Crickets strumming,
And bullfrogs bellowing warm baritone sounds.
Then I ornamented the naked sky;
Stringing lights, hanging bulbs, Lighting sparks
And placing the stars in staccato archipelagos.
I tended the moon with a little extra kindling
Until it esteemed to an alabaster flame
Draped amongst the twinkling crystal bulbs.
I basked in the night's shy beauty
And admired the brightness of the dark;
Chastened by its tender and gentle effervescence.
Nature flashed me a quick warning with the arrival of morning.
I stashed my matchbox in my knapsack and collected stars for my pocket.
I diligently blew out the stars and extinguished the moon with the coming of dawn,
Whose light must've been jealous.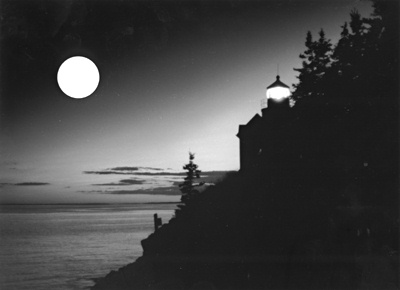 © Steve S., Marblehead, MA