The Nightmare Revisted
March 20, 2013
In the present time
I closed my eyes
to sleep the day's events away.
I was then launched
through time
to yesterdays long past
to the scene
where I saw her last
as 'mine'.
Though the stage
was a lecture hall
and not her house
as I recall.
But none the less
the play ended the same
as it did in reality...
In the last row
there I sat
with my back to the door.
I looked to my right
and then to my left
that's when I saw her.
Our eyes locked
for only a sec
for I quickly turned away.
As the dream went on
somehow
I became frustrated
at what the professor
was saying.
I then got up to leave
and started packing my things.
I then slid my backpack on
and reached for the door
Just as my hand grasp
the nob
thats when I heard
her cry:
"Caleb!...wait!"
I knew
the chase was on!
I quickly opened the door
and started running down the halls
with just her voice
bellowing
behind
towards the door
beneath the exit sign
I blasted through
finding myself
not in front of a college campus
but in her front yard
as if I already knew.
I then made a mad dash
towards my car
now with her footsteps
getting louder
with each stride of mine
along with her cries
"wait Caleb, Wait!"
Just like in reality
I drove down the road
and never looked back
my heart started pounding
with guilt and regret
Yet this I did not expect,
causing me to wreck...horribly
and with sweat
running down my neck
I woke up suddenly
I took a deep breath
and reached for the clock
5:46 am ( Oh just my luck).
So I went back to sleep
for the second time
my mind threw me back
But only a few days ahead
after the chase...
it was the this dream
however that truly
took my breath away.
Where we were?
I do not know
Whether it actually happened?
I cannot quite recall.
But her face
was before me
clear as day,
She was on bended knee
with tears streaming down her cheeks
Her electric blue eyes staring
right back at me.
with a pleading expression
and with much trembling
she managed to say
Please...
will you return to me?
That when I woke up
to dawn's light
and thought
to myself:
Oh what a monster
I must be
to have nightmares
such as these!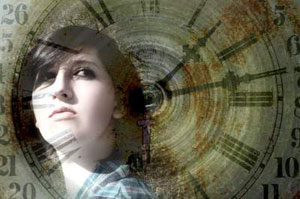 © Ryan K.