When Everything is Due Tomorrow
March 26, 2013
Never enough time, no hours, nor seconds,

neither moments nor laughs nor inhales of breath,

so my breath is short to keep in time.
With each panic I feel a year flutter off my life, 

and my heart trips a beat,

and my stomach conspiring to flee as well-
As much of me that can be free takes its leave:

my security, my sanity, strands from my scalp
        my thoughts, my plans, my cares
Abandon me. My sleep hides from me in the night,

a shadow cowering beneath my bed as I shudder above. 
My past, it runs from my future;

but I cannot blame it, for the unknown 

is the most fearsome of all creatures.
But lucky was I to be pitied

by Could Have and What If. 
Though I really must say they are poor partners for tea-

they fall into eternal conversation,

Mr. Have stuck in the past and Sir If the future, 
So I, barely strong enough to keep pace with the present,

can only listen as my human friends sleep,
In nowhere when I must be everywhere;

place+time - the math should be simple -

should I have checked it, though-

for all I get is forty-two.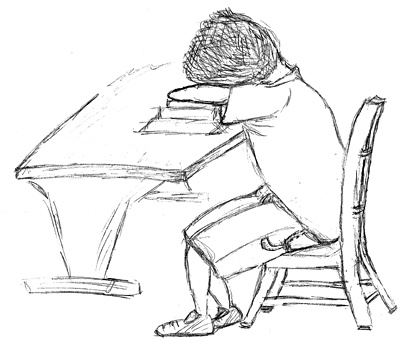 © Franziska K., Milford, CT