Black and White
April 2, 2013
By day I confine my thoughts to the page.
Write in soft gray pencil,
Let the words fall in perfect rows
Letters
Lines.
Hide them with a curved hand,
A guarded heart,
A skeptic's mind.
Keep them on the paper and watch
As the meanings smear with age
Until I can't look at the mess I've made
Anymore.


But at night
I drink the cool air
That I've trapped behind my closed door.
Relish the lack
Of watching
Waiting
Wondering all around me.
I put down the pencil
Crumple the pages
And paint bold, black words
On clean, white walls.


I let every worry
Thought
Breath
That ripples within me
Decorate the shell that protects me


The walls.


I paint music
That I could never play.
Too dangerous.
Sounds travel so far.
Into the ears of those
Who expect so much more
Than the soft, simple tune I can give them.


I paint words
That I could never say.
Too lasting.
Opinions form an image
Branded on my skin.

Instead,
I let my hand
Dance
Swoop,
Soar in silence.
Let the ink
Stain my pale,
Timid skin,
Soul


I fall back on the
Cool,
Rumpled quilt
No longer afraid
To let creases
Form


And admire the dark
Meaningful words I have finally written
In brave
Black
Letters


That will fade by morning.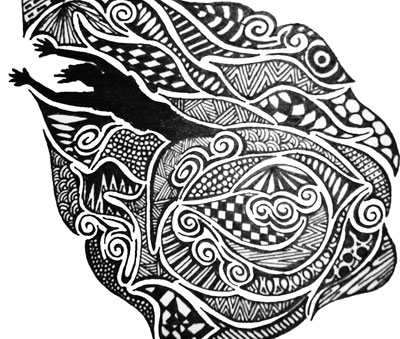 © Caroline B., Haworth, NJ