A Love Letter from a Watch to a Bell
May 3, 2013
No matter what they say,
My heart will always tick for you.
Every minute will seem like an eternity,
If I'm away from you.

With every tick, and every toc,
And every ding, and every dong,
We echo each other, our voices
Blending between the stars and the planets,
Merging together to create sweet harmony.

And they told me you were shallow,
Deep inside, nothing but hollow.
And they told me you were too thick,
Hard on the outside like a brick.

And no pain, no rain,
Can keep me up all night and day.
It will drain, but won't stain,
My sweet memory of yesterday.

And nothing is as sweet as your song,
Without it, I'm a ticking bomb.
You kept your heart dangling from a thread,
Hidden between the shadows in your head.

And I know your life is shaken,
But I'll go back in time to fix it.

In the meantime, fall into my arms,
I know they're small, but strong enough.
I'll carry you down the road,
Till you know you're my number one.

And the years will pass, like one, two, three,
But baby, I truly believe,
That no matter how many times we go round and round,
I know that my one true love, I have found.

So ring me up sometime, call me over,
I won't be late, you can be sure.
I'll strap myself around you and make the world stop,
And maybe even make you my Ms. Clock.

Because my heart will always tick for you,
Every night and every day,
And I promise I won't mind about what they say.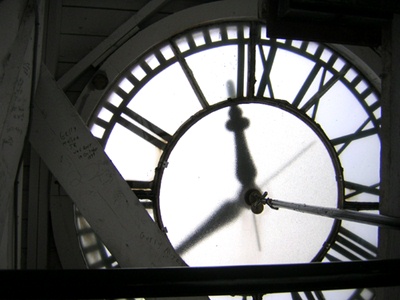 © Tatyana Z., Norwood, MA