Legos
May 22, 2013
When I was little
my brother and I built our future out of Legos
bricks and dreams piling high,
every color but never could we reach the yellow road.
We ruled the world only to find the world had rules
paint on a smile and don't talk about your Legos.

When I was learning to read
my country was learning to grieve
as we lost two Lego towers and the dreamers who built them.
My friend's dad saw those Legos fall
but now he can't see my Legos at all.

When I started watching other children play with Legos
I learned that other families weren't like ours.
They didn't build in a corner with the door closed.
Trying to block out the screams, brick by brick.
They didn't need their Legos as much as I did,
because only with plastic could I build a life all my own.

When I studied for my first exam
I watched my little sister play with Legos.
But each week she has to start again
Because now she has two sets of Legos.
One for each half of her heart
living far apart.

When I run away
I won't take my Legos with me
because in the end
all they do is fall apart.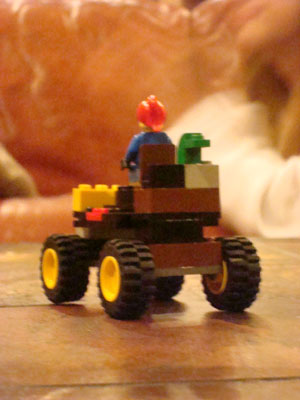 © Adria O., Edgewood, WA