Ana (Anorexia Poem)
June 2, 2013
Ugly and fat, you wish you were thin,
You look at Ana with a wide grin,
She frowns with disgust at your chubby chin,
"God, Katy, you'll never win."

You squeeze your huge thighs,
Pinch your stomach and shut your eyes.
Food becomes something you completely despise,
And in a month, you've lost fifty-five.

You look at the mirror and sigh at what you see,
You were never that girl you wish you could be.
"Come on, Katy, skinny is key.
Only when you're skinny, will you be free."

Soon enough, your smiles became sneers,
And pleas of help, replaces all your cheers.
"She's so skinny." would whisper your peers.
But it was all for Ana, the cause of your tears.

And soon enough, it was too late.
"Come on, don't eat, this is your fate."
You smiled at Ana and you never ate,
She smiled back, "It's past your due date."

This was your time, Ana had her ways.
Your heart was set in a fiery blaze,
Your mind filled with a wild craze.
You sighed in defeat, and cringed at her daze.

"Please, just help me." you pleaded to her,
But she just chucked at your drunken slur.
"Precious little girl, that's what you were."
Your mouth couldn't open, so you didn't deter.

"Bye, bye, my darling." You faintly heard.
You sinked into the darkness, your vision is blurred.
Your heart, to this day, it remains uncured,
But that doesn't matter, you died on the third.

You watched from above, as Ana found someone new,
"Ew, that's gross, spit that out, don't you chew."
You wished you could scream that he should bid her adieu,
But you're dead 'cuz of Ana, just one of the few.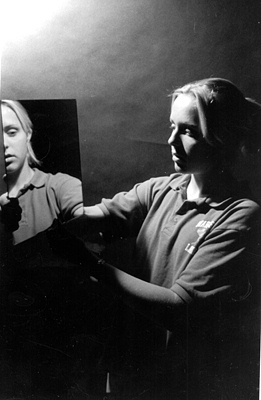 © Hadley B., Marblehead, MA