Last Attempt
July 1, 2013
So many failed attempts,
So few reasons to try,
I will do this one more time,
Because I can no longer fly,.
I lay in my bed,
Clutching the sheets in terror,
In sheer anticipation,
For I know what comes next,
And my heart races in my chest.
Finally the last light fades,
And so from my bed I rise,
I creak my door open,
Hesitate for a single moment,
Do I really want to do this?
Yes, this is my only way out.
I gently walk down the stairs,
Into the kitchen,
Flick on the light.
I pause, listening for signs of life,
Then continue my task.
I open the cabinet,
My eyes scanning for the bottle I know so well,
There. Ibuprofen.
My hands shaking, I pull the container down,
Twist it open in one practiced motion,
Not looking, I empty it's contents on the counter,
Fill a glass with water,
Lift the first pill up,
Wash it down with a gulp,
Again and again,
2,3,4,5,6,7,8 times,
I stop counting,
Those few minutes feel like hours,
And by the end I am eerily calm.
I climb back up the stairs,
Settle on my bed,
Say my last goodbyes in my heart,
And close my eyes.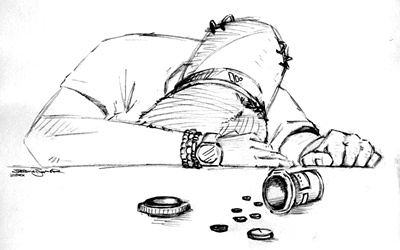 © Jeremy B., Austin, TX