Virtue Cries
July 8, 2013
She cried...
Her tears,
Like drops of darkness,
They drip as blood rain from Night's open wound.
The tear in a shrouded sky,
Cut by the wings of an angel.
Kiss of poison...
Breath of death.
Take me alive,
Dark One.

No light passes
Through the doorway of pain.
Anguish spreads its colors...
Black and gray fall to the earth.
Life starved, it quakes with rage.
Haunted and chilled...
Thriving on her tears,
The thorns flourish skyward,
Choking me till I confess...
I love you.

Bar her from Heaven...
She does not belong.
Lost hope remains outside the gate...
Buried in the graveyard of broken dreams.
Conscience cherishes Defeat.
They toss and turn,
Restless under earth...
They fight for air.
Trod upon your losses,
Empty soul.

She lies in wait...
Until the scorching fire
Burns final life into her heart.
Comfort Fear...
Love Hate...
Save Death...
Battle those who make no name for themselves.
Irradiated by darkness, I drift by you...
Lucid... Weary... Plume of dust and ashes...
Clench your teeth and catch me with a twisted smile.

Hear her voiceless cries!
Feel her beatless heart!
She hoped in hopelessness...
Murder... Plunder... Power...
Kill her life and live hear death.
Watch her with blind eyes.
Know the thoughts of the thoughtless.
Quench the thirstless.
Loudest silence...
She heard it all.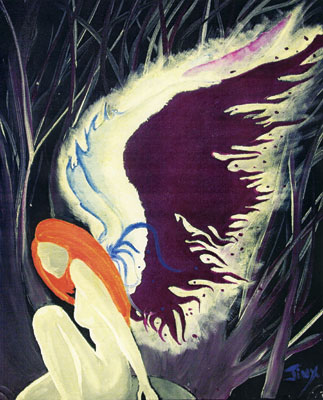 © Megan B., Youngstown, OH