She and He
November 28, 2013
Dressed in white on a warm spring afternoon, Just she and he dance among the soft wheaten fields and the soothing breeze.

A calm comes over them, just she and he, as the sunset comes forth unto the horizon and they they lay to watch the beautiful golds, ambers, and scarlets revolve around the fading star.

As the Sun leaves the stage, the pearl moon takes dominance in the eyes of she and he, aligning itself among the myriad of diamond stars that twinkle in harmonious choreography.

The countryside glistens with illumination as the crickets chime and the creatures of the night sing their song to she and he.

Ecstasy reigns over their souls, as their eyes close in on the intricate sights, ever more beautiful with each glance.

These are the days he remembers of she and he, when the sunset came not with grief but with joy.

His soul longed for those nights when she could point out every detail; every shooting star in the night sky.

A gray, old man he was now, He always longed for her touch. She danced among the sparkling stars. Her presence in the sky made the stars burst with celestial light.

Those afternoons in the breeze flooded his mind as he lay down in the now-barren fields where she always used to lie.

The bitter cold tried to freeze him down, yet could not contend with the warm peace that filled his heart. He remembered her silky smooth voice singing of the wonders above.

As the moon took its throne above the dark earth, shedding light through the trees around, when the last fleck of color left his sight, he followed that velvet voice. He ascended toward the fluorescence of the moon, where she held out her hand.

He gave his one last breath to the cold, stale air, and floated to the sky where she danced while she waited. Their bodies embraced as he whispered into her ear; eternities of spring at their fingertips.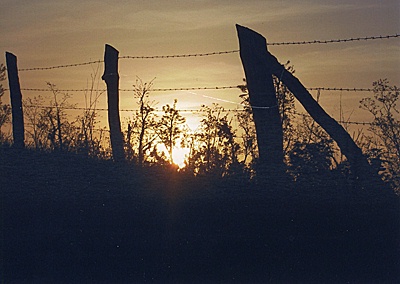 © Michael T., Letart, WV