Highest Oak
November 27, 2013
Children sprout from petite seeds,
Inching, climbing, skyward.
A mighty forest the generation
Becomes, together, roots
Intertwined to clench their
Earth below. Not because of fear,
Nor fragility, to never grow
Too tall, to surpass the green blanket
And lose vision and sense.

The charged winds do crash,
Each oak firmly rooted,
Gusts no worry as they hold each
Other, mighty and tall. But not he
Who has climbed highest.
The bag is opened, wrath released.
Branches tremble, leaves down-spiral,
He CRACKS, and races home,
To safe earth, to protection.
Expecting his roots to reconnect
To his lost soul.

No tree recalls
This sorry twig, his barren arms unfamiliar,
His trunk splintered.
No, he is not caught. Not saved.
Not re-rooted. He lands, seeing the family
Once loved. No power to re-attain his height,
nor his strength. What Strength?
His roots wither, never having clenched tight,
Too concerned with moving to the clouds.
Oak received his dues.
He loses his garments, eaten away,
His soul, crumbling dust.
To lay low, beneath those
He once swayed above.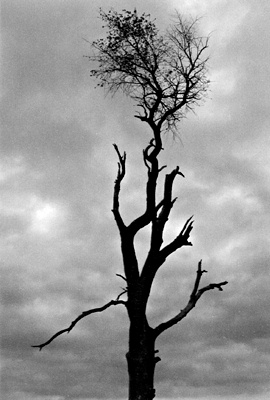 © Cassie H., Carmi, IL