Nightmares
December 14, 2013
I'm tired.
But I don't want to sleep.
I don't want the nightmares to start again.
Spiders crawling and out of your ears,
eyes,
nose,
mouth.
Blood covering your loved ones where the knife cuts in.
All-consuming darkness.

Suffocating, scratching its claws down your face,


leaving behind tears.
Your cries for help not heard.
For an un-known reason they fall silent on other peoples ears.
And all you can do is lie in your pain and wait for your impending death.
But this is a nightmare.
You do not die…

you get to lie in pain until you wake up from this dream,


covered in sweat.
You get to suffer until the sun rises and the moon falls,

taking your troubles down along with it.
But beware,

for the nightmare is a greedy beast


hooked on your fear
it will come back,

just try and relax until night falls upon you like a heavy fog.
Clouding your judgment and conscience,

drugging you for sleep…


and your imminent misery.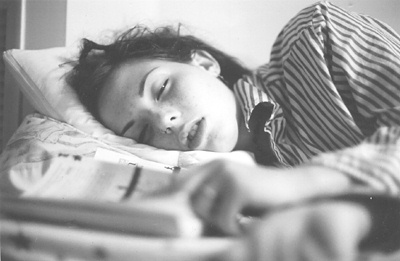 © Donna O., Kannapolis, NC