i hate what you've done to me
December 28, 2013
Who are you
to grab and yank and squeeze,
to plunge your hand into my chest,
to shatter my ribs,
to drench your pale hands in my blood,
to stain yourself red with my unneeded passion?
How dare you so viciously remove it,
take the organ I rely on least out of it's box
and flaunt my heart so painfully before me?
Just because I never used it correctly,
you had to swoop in to remind me that I have one?

What gave you the right
to arrive in my life,
with sweet smiles and puns and god damn it,
your awful, aggravating, adorable laugh?

What gave you the right
to become so close and kind,
to be so innocent?
How can you not know?

Babe, love, enemy:
you punch me in the throat when you walk in the room!
You have a telepathy I've never encountered before,
allowing you to bruise my insides and take my breath away.
With it you steal all that I've ever relied on,
with it you steal my fu----g words!

Do you think you can make me give a s*** for once?
Do you think you can just erase my apathy?
Because you are completely
right.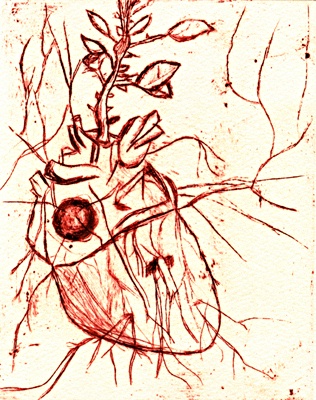 © Elaine S., Phoenix, AZ