Sold, my self worth.
January 1, 2014
Every morning the same routine,
Open my eyes to the exact same scene.
Looking in the mirror to perfect a smile,
while longingly my shaded eyes, barely recognizable stare down at the tiles.
The words I mutter with sincerity to the mirror,
my own reflection, the rooms silence, reflecting as if I'm a killer.

Ugly, Stupid,
Unorganized.
Fake , worthless,
The very one person every one despises.
And Sold! once, again.

And moving on through out the day,
In the lockers, hidden I stay
Keeping my eyes casted away.
Slipping off the costume hiding my fate
I look to see a monster I can't escape.
How, fat, flab-ish and unloved
Cringing, I'm given a shove, my self worth down the drain.

At the end of the day
I frown and sit, trying hard to not complain.
So I pray,
holding my hands up, to a god I'm unsure can hear
All my thoughts that brings infinite tears.
I relax, opening my shut eyes I hadn't noticed looked so alive
At the kits, and cans of spray.
So all I can do, is collapse and cry'
holding out my arms wide
To the battle scars and beauty marks,
that remain.
I'm sold, sold once again.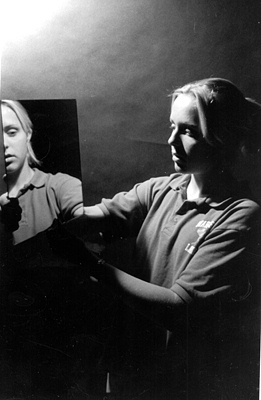 © Hadley B., Marblehead, MA