I Once Met Him
January 4, 2014
Big.
No. Wide.
Beautifully round at the tip.
Coming out of his face
In a straight, somewhat comedic way.
And he's old.
With long ears that
Have gray hair showing.
He's a character from a book.
A caricature from the Sunday funnies,
A Picasso painting that portrays age.
He reads the newspaper
Shaking the pages
With his veined hands.
His eyes small and shimmering.
And the wrinkles on his face
Softly whispering for you to iron them.

He looks like a creature.
A troll.
No. An ogre.
Eating children and raisins
With his dentured mouth.
Yet he's not evil.
There is a love in his pupils
That shows when he thinks of his life.
Recalling his twenties
And the first time he kissed his wife.

He is old,
But he wants to feel young again
Asking the young ones of their lives
And complaining of technology.
To himself he weeps gently,
He has outlived his two children.
He's a father.
No. A grandfather.
The kind that spoils the young ones
While occasionally forgetting their names.
His steps are firm and
Every one with a purpose.
The cane is unnecessary
At least it seems that way.

He is the man next to me
On the train.
Yes. Right next to the window
For he says he enjoys the scenery.

Every stop he looks at me with a wide smile
As he jokingly raises his eyebrows
And lowers them
In a quick repeating manner.

He got out before me
And I thought I would not see him him again.
But there he is
With the same light in his eyes
From the time I met him.
There he is in the pages of the newspaper
He enjoyed to read.
There he is.
Dead.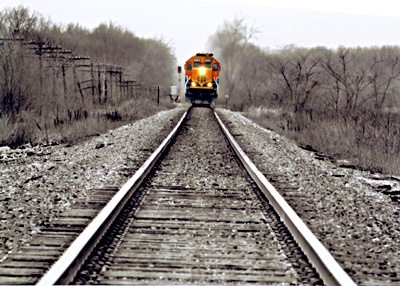 © Matt D., St Peters, MO