Unreturned
March 26, 2014
What makes you shudder
Whenever I insist
That we will be together forever
And ever
Through the end of eternity
And the dusk of time?

After the stars explode,

After the world implodes,
After our entire known universe
Shatters into countless tiny shards,
I will cling by your side,
Inseparable.

What bothers you so
Whenever I show you my devotion
That I always have and always will
Love you more than the limits
To which my small heart can stretch?
I will gladly destroy
My meaningless mind
Just for you. Only you.
As long as I am able to love you
The way I do and the way
You don't.

Why have you been so distant,
So cold like the icy Arctic waters,
Never warm like the high-noon sun
I always wished you to be?
Why do you withdraw from my touch
And ignore the words from
My desperate lips
Asking for the soul whom
I'd run to the depths of Hell
To save?

Now I give you this black valentine
(Something you'd never care for)
A fitting sibling to your heart
That has been consumed by
Your ever-present ignorance
And my unbridled love
Which will never be returned.

Why have I loved you
In the first place?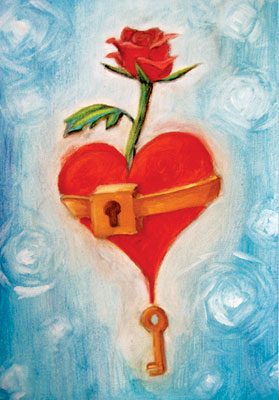 © Louisa L., Pleasanton, CA