Unacknowledged
April 6, 2014
In the marathon of life,
The numbers will fall.

But few will dare glance back,
And naught but one will acknowledge.

Only the closest will feel,
Some may become troubled
But those who didn't know well,
They are said to be selfish.

They do not want harmony,
Merely attention.
And when they hurt,
They are to be prosecuted.

But tell me,
If it were you,
Would you want to go unnoticed?
Wouldn't you wish for all to know,
To hurt,
So they could begin to heal?

Most will continue on,
But I will stay.
So surrounded by death,
I can nearly feel its claws myself.

They want me,
But I mustn't give in.

Because all would continue on,
Maybe a few would notice.
But that would be selfish.

Is that all I am?
In your eyes? Yes.
In mine? No.
I will continue on for you.
So you can know just how wrong you truly are.

Me, for all the others.
And I will not stop noticing,
Feeling,
Hurting,
No matter what you say.

I have the right to feel their pain,
To take some of it onto myself.
Unselfish matters,
And I will let no one feel the loneliness of being,
Unacknowledged.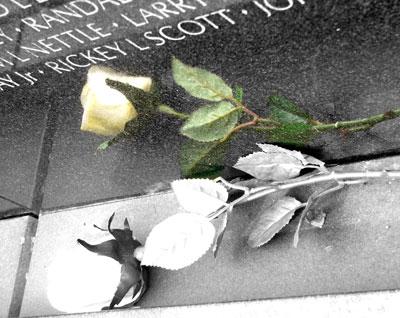 © Kimber E., Yorktown, VA