As Fast As I Can
May 25, 2014
You're out there somewhere
resting your head against your pillow,
that curly hair of yours is starting
to fall out from the way you pull at
it when you get nervous. You're laying
in your bed tonight with a novel resting on
the bedside table and a leather bound
notebook filled with prose and poems,
scribbled fragments of emotion and
pain. You're a writer, just like me. Out there
somewhere gazing at the ceiling, hoping to
make it in this world but your parents tell
you to choose a different path and you think
maybe you should listen but you don't.
You're not cut out for life in a monkey suit
surrounded by ignorant, small-minded people
who sip their non-fat soy mocha lattés with
their porcelain pinkys raised high. No, you're
a writer, a change maker, a modern-day reformer.
You want to question and be questioned and you
Want to learn and grow and shape future
generations with your words.

You press your palms against your eyelids
tonight because you feel dampened by
those who misunderstand you.

You're waiting for me, but I'm coming as fast as I can.

We'll raise a family of chickens and children and watch
the sun go down from our studio apartment
after college, drinking burnt coffee from Stewarts
and watching How I Met Your Mother reruns. You'll
tell me I'm beautiful and I'll tell you the same but
we'd much rather have tickle fights and debates than
waste our breath on vain conceit.

I'm coming as fast as I can.

We'll spend our nights eating microwave
popcorn because it's college and we're broke but
somehow we'll get by and make it to the big city.
I'll become a lifestyle journalist penning fluff pieces
on contemporary culture and writing my own poetry
on the side and you'll be out doing God knows what
but it brings home the money and brings you home
to me at night. We'll have a ceremony in the park on
a cool April evening. You'll say I do and I'll say it back
because we love each other with a passion that no
demon in hell can douse. Burning eternally like a
candle without any wind. You'll hold my hand and
teach me everything you know about Chinese folk-art
and I'll try to prove you wrong every chance I get
because you're the best thing that's ever happened
to me.

Your head rests against your plaid pillowcase
and you think of me and who I'll be when we meet-
Tonight, I'm doing the same.
I'm on my way, I'm coming as fast as I can.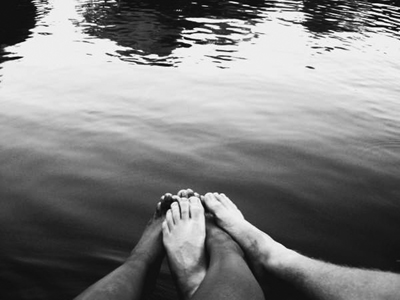 © Michelle W., Ada, MI