Withering
July 5, 2014
Some things cannot be lived without,
Nor died without,
Beyond any doubt.
We thrash about
'Till our hands are stained red from acting out.

They say love is like a rose,
Beauty that shows,
Until the pain arose
And threw a few blows,
Reaching an all-time low.

I feel like I am withering,
My soul blistering
From all their pity-filled whispering
That runs circles in my head – lingering.

The cold is upon me – surely it's Death
Who awaits my last breath?
Surely you're not in a living death
As I dance this lively dance of death.

I feel like I am withering inside.
Wish you had not died.
Don't want to cross this great divide
But next to you I want to be beside.

So watch me,
I'm the world's next absentee
Over by the willow tree.
Rope hung high, my spirit shall be set free.
Slung around my throat, our reunion I foresee.

As I choke on this life, I breathe your name.
And though my choice God may declaim,
I swear I play no child's game,
Just a gamble with the Fates, my String they maim.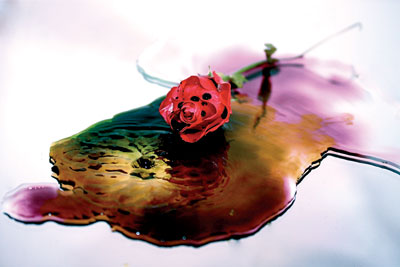 © Garrett M., Port Angeles, WA