I Carry My Own Heart (Like a Shield)
July 22, 2014
I carry my own heart.
I carry it like a shield in front of me
so that nobody will know I'm missing a rib.
If my grandchildren ask me,
this is what I will tell them.
When you're being destructive and
don't want people to see,
don't wrap it up like it's a Christmas gift.
Carry your own heart like the compass
hanging under our rear-view mirror,
always pointing where you'll learn what it all means.
Carry your own heart when your father
refuses to hold your mother's hand when they walk.
Carry your own heart and let it choose for itself
what to put inside that is worth the space.
Because these small, and seemingly insignificant, moments
will grow into much bigger ones as you age.
When you meet someone with sharp edges,
carry your own heart -
bare and soft and alive.
Let them cut it open so that the rain
can slip through the cracks to rinse it lightly
and drain away your coarse regrets.
When they throw stones at it,
turn them into pebbles that
bounce off delicately on the ripples.
I know how you hurt and I know how you bleed.
We bruise and we heal.
We fix old wounds with new stitches,
and that's what we're born to do.
Lock it up but slip the keys
under the tongue of someone
who carries his own heart, too.
When I grow old,
my heart will not anchor me down like a
silver-cross necklace of remorse,
but will arch my back into a rainbow
spreading across the Manhattan sky after the storm.
And if my grandchildren ask me,
this is what I will tell them:
Like a shield,
through the fire and through the flames,
I carry my own heart.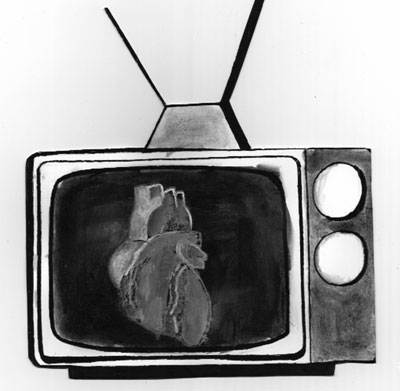 © Brooke S., Indianapolis, IN