my enemy hold ground
August 6, 2014
foxhole wet and muddy place,
crambe and boring; waiting.
pop, pop, pop japs coming,
poke out fire my grant.
yells and screams for medic,
zip,zip bullets fly over me.
dam it Im hit arm bleeds,
black dirt water, blood,
never great to look at,
or lay and wait, hole,
jumped me he did, punched,
stab him with bayonet.
all quiet they are gone.
a hole for one is two,
I gave it to him as,
burial ground for him, dead
dig new hole wait again.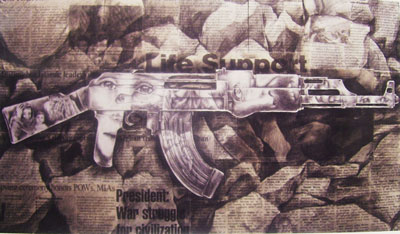 © Claire V., Lubbock, TX